Beds
3x double bed, 2x single bed
Room size
180 m²
Occupancy
8 adults (4 children)
View
Sea View / Street View
The Surfhouse is located at one end of Cotillo, close to the lagoon beaches. "Once around the corner and you are the sea" - in a privileged position and environment, you are just a stone's throw away from one of the most beautiful beaches of Fuerteventura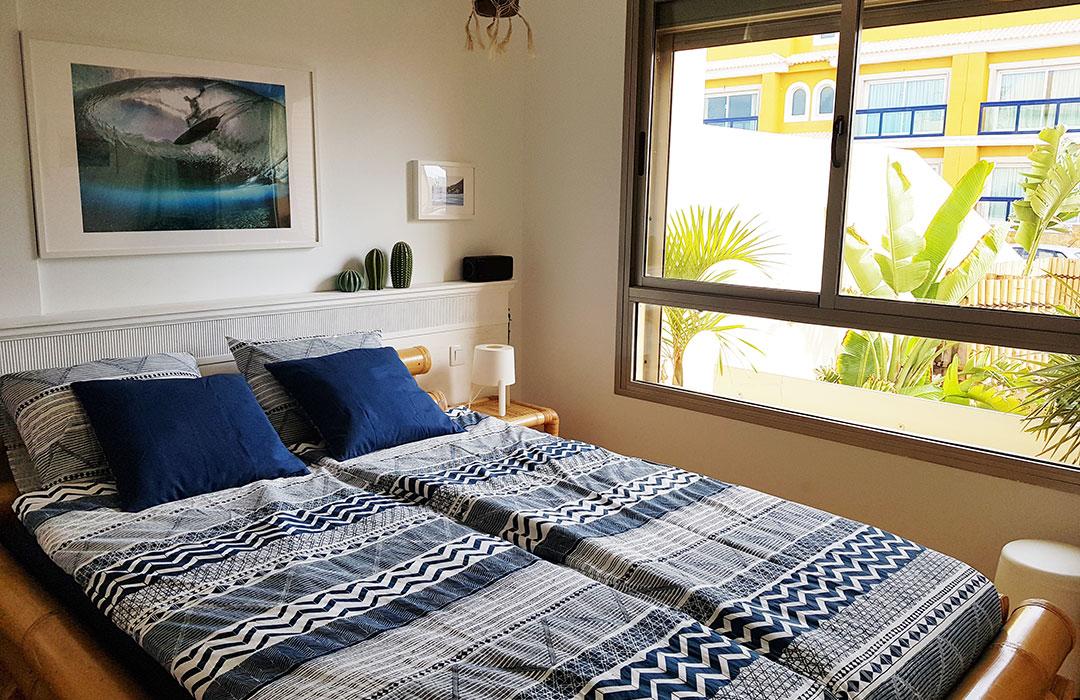 SURF HOUSE
Fuerteventura
Book Now
Surf House Fuerteventura - "Beach & Ocean around the corner"
Surf House Fuerteveneutra in El Cotillo is only a stone's throw away from the sea. We have created a place of peace and relaxation for you.
The Surf House here on Fuerteventura offers enough space for your individual development, for quiet moments, but also the possibility for community activities. Relax with us in an environment that is specially designed for the needs of surfers, with the focus on quality, active recreation and relaxation.
It is very important to us to create an unforgettable vacation ambience for you every day. The accommodation is just the right thing for surfers and beach lovers. Experience a surfing vacation just the way you like it, with surfing and relaxation in the foreground. You will be pampered by a team that lives out its passion for water and water sports and hopefully will infect you with it. Welcome to Fuerteventura!
Interior design of Surf House Fuerteventura
This is where you can spend your holidays
You enter the surfhouse via the spacious terrace of the Sufhouse with a small palm garden, where you will find a rain shower, sun loungers and a sitting area. The house consists of 2 floors. On the upper floor you will find the large dining area, where you can have breakfast together.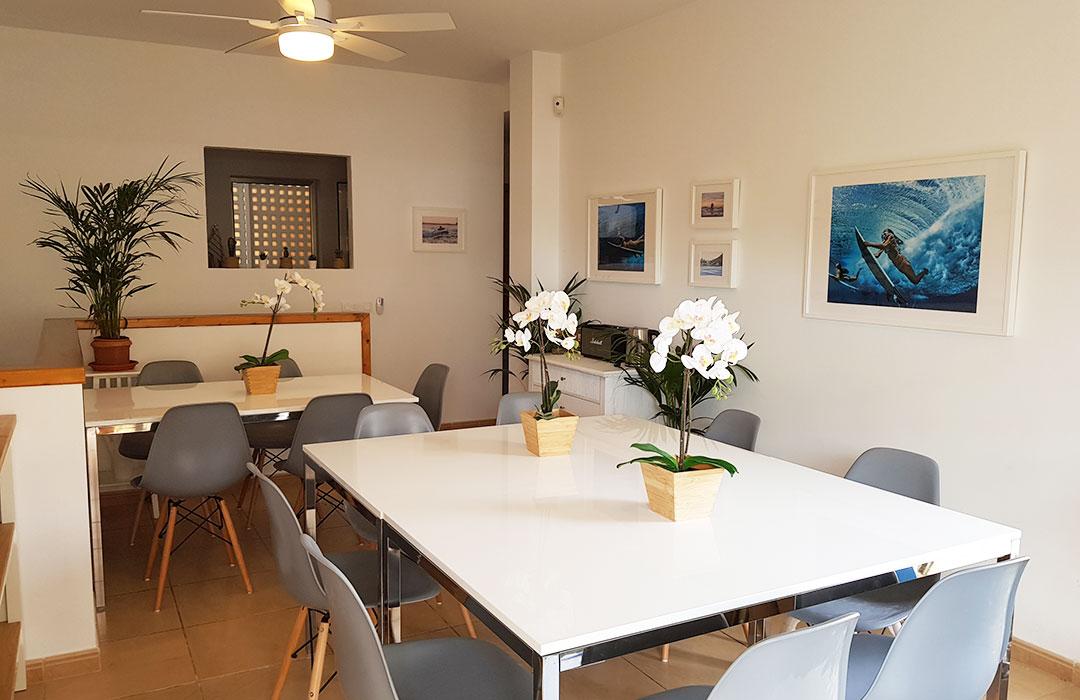 Dining area and lounge area
Here you can have breakfast and spend time with friends and family. You can enjoy the view into the garden or relax on the small terrace. Let yourself be really spoiled - after all you are on a surfing vacation
Bedroom n° 3 (downstairs)
Comfortable and surfer-style, that's how our room N° 3 presents itself, it is illuminated by beautiful skylights. This way even a few more rays of sunshine can reach your room. Close the door behind you and just come in. Here is your oasis of peace and relaxation. Surrounded by beautiful surf photos you can dream of your next wave.
SURF HOUSE
Fuerteventura
Book Now
"Salt on your skin - sand in your hair" - Surf House Fuerteventura
Your Second home at the sea - Surf House Fuerteventura
Feel at home with us and enjoy the impressions of Fuerteventura. In the midst of an impressive scenery every nature lover and surfer gets his money's worth. At one end of El Cotillo, our little fishing village, you will find the beautiful lagoon beaches with their white sand that reminds you of the Caribbean. At the other end of Cotillo there is a cliff from which you can look down on the vastness of the ocean.
El Cotillo is known for its breathtaking sunsets and is characterized by a lunar landscape, volcanoes and rock formations towards the interior. Here you can let your gaze wander and descend inside. You can enjoy the silence and recover from the stress of everyday life. Fuerteventura offers you unforgettable nature experiences. Even if the landscape may seem a bit desolate and dry at first, at second glance it offers many hidden details. You spend your vacation in an environment that allows you to concentrate on yourself and your needs.
Key Features of Surf House Fuerteventura
super close to the lagoon beaches of El Cotillo
sun terrace & garden
bali design  & furniture
beach house flair
equipped with all you need for a perfect vacation
free Wifi, Smart TV
dishwasher, washing machine
sheets, linen, towels included
Exclusive & Complimentary Services.
It doesn't matter at what time you arrive at Surf House Fuerteventura, you will be always welcomed by the warm and friendly staff that will make you feel right at home.
We will make your stay as easy as possible. We are living on Fuerteventura for a long time and will assist you in any needs possible.
A wolderful abmientce in Bali style that invites you to relax
Our Surf House Fuerteventura offer you a wonderful ambience in Bali style and invites you to relax.
The house has a furnished balcony & terrace, which faces the street and offers you seaview as soon as you leave the garden.
The apartment is fully equipped with dishwasher, washing machine, coffee machine, refrigerator, kettle, toaster, induction ceramic hob and oven. In addition, there is an ironing board, iron and all household goods.
Modern & functional design
Super equipment to enjoy your perfect vacations
The apartments are fully equipped and have, in addition to the amenities listed below, TV with local channels (including USB connection to watch your own movies), Internet (Wi-Fi) and fans.
The price includes towels and bed linen. These are changed weekly. The final cleaning is not included in the overnight price and costs 100 €. An additional cleaning of the apartment is possible on request for an extra charge.
Location of Surf House Fuerteventura
Here you can find the wonderful house
Casa Solero Apartments are located in a residential complex one street away from the sea and virtually a shell throw away from the beautiful lagoon beaches of El Cotillo: the beach is fine sand and white - simply fantastic. You can swim there very well, because it is a lagoon, enclosed by black lava rock and with crystal clear, turquoise water. At low tide, fish and crabs cavort on the lava rock under water and in puddles on the lava rock.
Surf House Fuerteventura - Eating out or cooking at home
You decide what you want today
Breakfast for holiday-lovers
Delicious food and drinks in a great atmosphere in a nice feel-good atmosphere!
BREAKFAST - TIME TO FEAST & ENJOY
The apartments are equipped for self-catering and the open plan living room/kitchen (above) and the kitchen and dining area leave nothing to be desired. We leave spices and other supplies from previous tenants in the apartments.
A small supermarket is located around the corner of the apartment complex and the larger supermarket on the outskirts of Cotillo is a 10 minute walk away. Your physical well-being is taken care of here in El Cotillo. On the following
Dinner with friends & family
In the immediate vicinity of the apartment complex there are very tasty restaurants, be it the Italian Sottovento, the Bagus or the Happy Cactus, which among other things also invites you to vegan and vegetarian specialties.
In addition, the French bakery "El Goloso" can be reached on foot in 2 min., where you can taste delicious croissants and fresh bread. But the restaurant scene of El Cotillo offers much more and can be explored on foot from the apartments. You can find some suggestions in our restaurant guide of El Cotillo
Dicover our island & stay active
Activities on Fuerteventura
Around the Apartments there is a lot to experience besides surfing. In addition to the multitude of exceptionally good spots for surfing, the surroundings offer everything to make your vacation dreams come true: Whether diving, snorkeling, horseback riding, yoga, windsurfing, kiting, hiking, etc. - for active guests there are almost endless possibilities for leisure activities.
Stay active
Excursions on Fuerteventura
For those who prefer to explore the island, Fuerteventura offers numerous possibilities for hiking and mountain biking through the volcanic landscape - tips and information can be obtained from our surf school. For those who like it a bit more contemplative, you can go shopping in Corralejo or take a leisurely walk towards the North Shore and let the vacation soul dangle. Fuerteventura offers a lot for discoverers. Great excursions await you here with us.
Explore the island
Availability Check & Booking