Experience living on an island
We will find your Apartment – Fuerteventura offers places to relax and to be active. From volcanoes to beautiful beaches with a Caribbean flair the island has got it all. Views, the coast, excellent food and many secrets to discover with your trust in an Apartment Fuerteventura!
For surfers Fuerteventura is paradise with many surf spots to choose from.
BOOK AN ACCOMMODATION WITH US
WELCOME TO FUERTEVENTURA
Discover a pristine coastline with emerald green waters and over 150 km of white sand beaches on arrival. You're in paradise and bathed in sunshine and relaxing negative ions from the sea breeze. The coastlines of our beautiful island and the spectacular volcanic landscapes are why the island is a Biosphere Reserve.
Relax, calm down, close your eyes and when you open them you gonna feel like you were reborn. A perfect moment to hold your breah and enjoy living in he moment. Grab a board and hit the clear water. Or explore the island's cuisine in its villages. Try the fresh fish, wrinkly canarian potatoes and the designation of origin goat cheeses.
Fuerteventura will welcome you with over 150 km of beaches to choose from. The coast of Fuerteventura is sea and sand in its purest state. With beaches of all kinds there's a perfect one whatever you plan to do. Forget everything and walk alone along the shore, eat fresh fish right by the ocean, or just sit on the sand and watch the sunset. With 150 km of amazing sandy beaches the choice is yours.
Accommodations – House, Villa, Apartment – Fuerteventura you decide
Choose what's best for you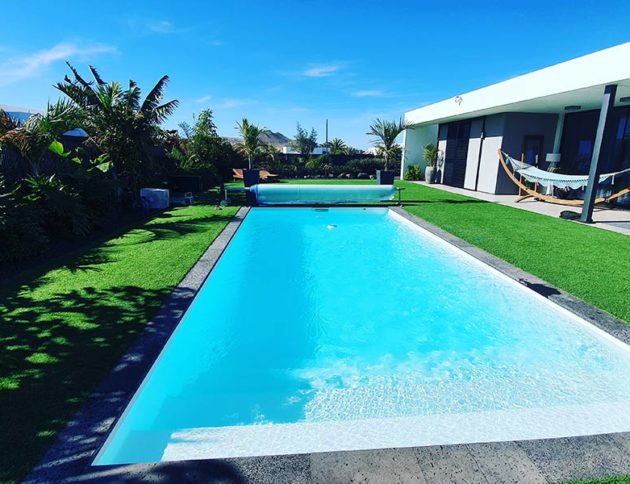 vamtam-theme-circle-post
Villa Nalani is the jewel in our portfolio. A private, beautiful villa in bali style, furnished with love for detail, it is located in Lajares in the middle of a paradisiacal, tropical garden. The large swimming pool and own jaccuzzi… From: 300€ / Night
CHECK AVAILABILITY
Villa Nalani – Villa Fuerteventura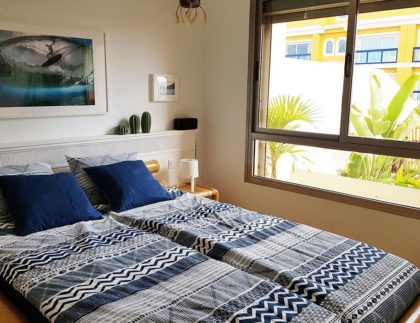 vamtam-theme-circle-post
The Surfhouse is located at one end of Cotillo, close to the lagoon beaches. "Once around the corner and you are the sea" – in a privileged position and environment, you are just a stone's throw away from one of… From: 268€ / Night
CHECK AVAILABILITY
Surf House Fuerteventura
vamtam-theme-circle-post
Casa Solero "Once around the corner and you are the sea" The Solero Apartments are located in a privileged position and environment, just a stone's throw away from one of the most beautiful beaches of Fuerteventura in the lagoon of… From: 107€ / Night
CHECK AVAILABILITY
Casa Solero – Holiday Home
vamtam-theme-circle-post
Casa Moana is located in a great position and environment, just a stone's throw away from the ocean and the beautiful beaches of Fuerteventura in the lagoon of Cotillo. The fully equipped vacation accommodation, furnished with attention to detail, is… From: 107€ / Night
CHECK AVAILABILITY
Casa Moana – "Ocean" – holiday lettings fuerteventura
Your Apartment – Fuerteventura Restaurants between El Cotillo & Corralejo &
Fully experience the local living by eating like a local
Exceptional Food
The unique flavors you will find in the restaurants in the northern part of Fuerteventura will bring you one step closer to feeling like a local. You can grab a quick croissant or sit down for an exceptional full course dinner. If you need any recommendations – do not hesitate to ask!
CHECK OUT OUR RESTAURANT GUIDE
Bars & Drinks close to your your Apartment Fuerteventura
We spoke to bartenders to find out the popular drinks they hate making the most. See which ones to avoid to stay in their good graces. That's how you get a strawberry daiquiri made with scotch
CHECK OUT OUR FAVOURITE PLACES FOR A DRINK
Activities around your apartment – fuerteventura keeps you entertained
Fully experience the wide range of acitivity opportunities inside and outside the ocean
Watersports & other Activities
On Fuerteventura you will find a great variety of watersport options to choose from. Surfing, kite surfing, wind surfing, swimming, snorkelling, diving, you name it. Outside the water the island offers possibilites to go hiking, running, horse back riding or to enjoy the beach and just relax on the beautiful lagoon beaches!
CHECK OUT OUR ACTIVITY GUIDE
Travel Guide Fuerteventura
There is so much to do and to discover on this beautiful island. We have created a little travel guide for you in which you can find detailed information on what is going on on Fuerteventura. What you should see during your stay on the island? This is up to you, it is your holiday, do whatever suits you the best. We are here to assist you!
CHECK OUT OUR TRAVEL GUIDE
This could be your way of living the dream
in your Apartment – Fuerteventura lifestyle
Homes by or close to the ocean – spend your vacations with us
Impressions from Homes by the Ocean
This is where you could live & spend your holidays
I felt it
before I heard it
Guest Book – Apartment Fuerteventura
Read how others felt staying with Homes by the ocean
FAQ's – Apartment Fuerteventura
Frequently asked questions regarding your apartment booking with Homes by the ocean
Why should you choose to book an Apartment on Fuerteventura with us?
With us your well-being comes first. You are the center of attention and we are always mindful that our guests is the focus. The fulfillment of your needs on vacation should be our motivation to prepare your and your family or friends an indescribable experience. Your stay here in Fuerteventura will feel like "coming home".We offer you a variety of great accommodations and a team that is always there for you. We are looking forward to your visit on Fuerteventura!
Why should we book our accommodation through Homes by the Ocean?
With more than 11 years of experience in organizing trips, vacations, accommodations and arranging activities, we guarantee you beautiful and well-kept apartments, houses and other accommodations. We offer you a professional service with a small but nice offer of services and activities. So you can relax in a dreamlike environment, in beautifully decorated accommodations and experience an unforgettable vacation alone or with your loved ones.
How do we find the right accommodation for us?
We are all travelers ourselves and often on the road. Therefore, we know how important the right accommodation is on a vacation. We want you to feel comfortable and since everyone is different, we offer a variety of different options: surfhouse, villa, apartment or a studio in Fuerteventura. You have the free choice! Our family Surfhouse is located close to the sea. Our Villa Nalani is located in a great garden and has a fantastic pool. Our apartments are all located in El Cotillo, walking distance from the beach. Our Surfhouse or any of our accommodations can become your home by the sea. Take a look at the different accommodations and then decide which one is best for you.
Why is Fuerteventura the best place for our vacation?
The most important thing on vacation for most of us is good weather and lots of sunshine. Fuerteventura, presents itself on about 3000 hours a year from its bright sunny side. The Canary Island with the smallest distance to Africa: only 100 km separate the "Punta de la Entallada" from "Cape Juby" in Morocco, is the second largest island of the Canary Islands after Tenerife with 1,731 km². The climate of Fuerteventura is very similar to that of Florida or Mexico, since they are located on the same latitude. This Canarian climate makes the archipelago of Fuerteventura an ideal vacation destination.
Fuerte is an island with many pet names and many faces. Some call our island the 'Island of Eternal Spring', others call it the 'Silent Island'. Regardless of how you describe Fuerteventura – one thing is for sure, here you can spend a relaxing vacation. We will help you organize everything for a successful trip and a great vacation.We have gathered more information regarding Fuerteventura on this page!
What is the weather like on Fuerteventura & ho warm is the water?
Fuerteventura has statistically a rain probability of 5 days per year. The highest probability of rain is in November, January and February. The coldest time is February. In February the weather is with 20 degrees during the day and 15 degrees at night similar to Germany in May/June. In summer, due to the steady trade winds from the northeast, temperatures are at a constant 25 to 28 degrees. The warmest days are in late spring and early autumn, when the wind stops, then the temperatures rise up to 30 degrees.The water temperature varies between 18 degrees in winter and up to 24 degrees in summer.
What else can we do on Fuerteventura?
Fuerteventura is a paradise for water sports and outdoor activities. Besides surfing, you can experience kitesurfing, windsurfing, sailing, wakeboarding, skimboarding, scuba diving, quad and motocross riding, hiking, mountain biking, jogging, fishing, playing tennis, soccer and basketball, snorkeling and much more. But get some inspiration on our sightseeing page!
Why is Lajares such a good place to live? What is there to see and discover?
Lajares is a small, dreamy place, with the charm of an artists' village. Maybe the name artist village is a little too exaggerated, but there is a lot to discover here. As a local meeting point of the surf scene, Lajares offers many small cafes, restaurants and bars where people meet for breakfast, a snack or even dinner, eat a few tapas and discuss the hottest surf spot and the waves of the day.You'll find a lot of young people, dropouts and survivalists here. Lajares feels like every day is the weekend. In the evenings, the place gets buzzing, whether it's at the Return bar or the jam session at Canela Café every Wednesday night. When the sidewalks are already up in Cotillo, you can still find a little evening diversion in Lajares.Also for families, the place offers everything you need for a successful vacation.
What makes El Cotillo so special, why should we spend our vacation and stay there?
El Cotillo has meanwhile a kind of cult status among Fuerteventura travelers as well as among the youth of the Canary Islands. If you haven't celebrated the Fiesta del Virgen del Buen Viaje in your younger years and witnessed the unforgettable foam party at the old harbor of El Cotillo, you haven't really experienced Cotillo.Can Cotillo be described as idyllic? Rather not, but it has a very special charm. The fishermen's life was hard and beautiful, historic buildings are not found here. Simple construction and simplicity, coupled with the relaxedness of the moment, is how Cotillo does itself justice.The locals go into the day relaxed. Enjoy the moment and living in the moment. That is the motto here.For the traveler, everything is offered here and in the smallest space. Many great restaurants and small stores, a small harbor and breathtakingly beautiful beaches. That is what Cotillo stands for. Just relax and let your soul dangle. Perfect for families with children is the lagoon beach, where there are no waves, but a shallow swimming lagoon and white sand to dig and build castles.
Our Recommendations & Tips
Read our latest posts
SEE ALL ARTICLES
Contact us
Whatever you want to know, ask us.
Send us a message and we'll contact you as soon as possible:
Enjoy Fuerteventura as a local!
BOOK AN ACCOMMODATION